Chromadek Sheeting is manufactured according to your Specifications, you may order any length from 1.8m's up to 13m's
Approximate lead time on Production is +- 8 days.
Deliveries are available – it is the customers responsibility to offload the truck so please ensure that you wear gloves.
The company manufactures a complete range of roof sheets that includes Craft-Lock concealed fix roofing. Supporting products and services such as bullnosing and curving of roof sheets, all types of flashings and other roofing accessories is also offered. Full technical support such as assistance with the design of the roof, and quantities and measurements taken from building and construction plans are available.
Is intended for use under rural, Industrial (mildly chemically polluted) or moderate marine conditions.
Comprises a Z200 hot-dipped galvanized supstrate pre-primed with a primer (Dry film thickness (DFT) of 5µm) and finished with a final paint coat (DFT of 18 – 22µm) on the top surface.
A single backing coat (DFT of 8µm) is normally applied to the reverse side of the sheet
Chromadek® offers great versatility for roofing and cladding applications. South African architects use Chromadek® in a variety of roofing and cladding projects ranging from churches, shopping malls, factories, warehouses and airports to luxury eye-catching homes and large housing estates.
Chromadek® is exceptionally colour-fast. Warrantees are given on application, supject to certain conditions. The 14 exciting colours in African Heritage Range captures the essence of the African environment reflecting the continent's unique hues allowing designers the freedom of expression.
Please add the following below Colour Chart:
Carefully selected to endure the harsh African climate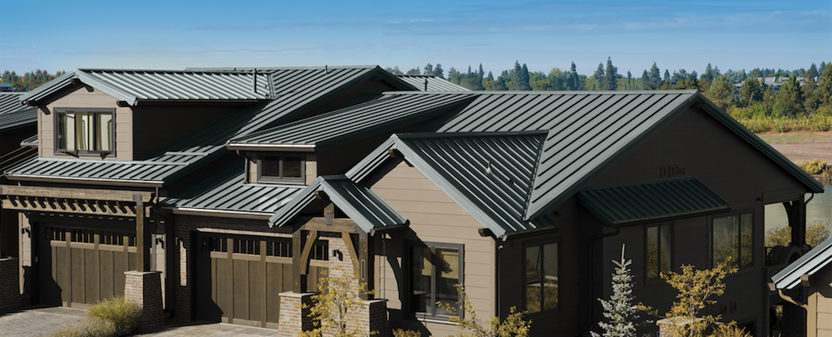 All the advantages of Zincal® performance with the option of colour for added aesthetic appeal
Colorplus® is a factory pre-painted sheet with a Zincal® substrate, giving you all the advantages of Zincal® performance with the option of colour for added aesthetic appeal. Colorplus® is an appealing option for all building applications. The technologically superior paint system has been carefully selected to endure the harsh African climate with optimal colour-coating performance.
The paint used on Colorplus® limits chalking, and ensures optimal colour fastness. The modified polymer system also helps to resist dirt or contaminant retention, ensuring that the building stays clean and the colour is fresh-looking for as long as possible.
Sheeting Direct supplies a full range of flashings to customers' requirements. The standard range of flashings as summarized below is manufactured in 3 m lengths. Non-standard flashings are available on enquiry in different colours, lengths and dimensions.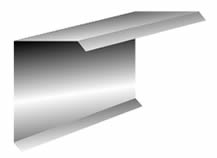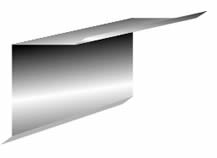 Internal Corner Flashing 460g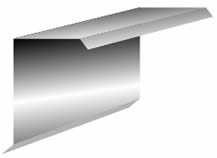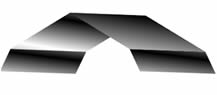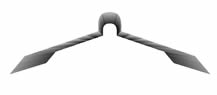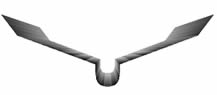 Bullnoses & Center Cranks
Bullnosing and centre-cranking of a profiled sheet incorporate lateral rib indentations pressed in at a uniform distance of 25 mm. Standard bullnoses are made with narrow flute uppermost and the bend away from the angular inclination. Reverse bullnoses are made with the bend into the narrow flute. Bullnoses and cranks can be at the end of a sheet or at any position along the length. Bullnoses and centre cranks can be manufactured in radii ranging from 350 mm to 800 mm for bullnoses which are bent through 0 – 135°. High tensile material can only be bullnosed and cranked to a minimum radius of 450 mm.